Artist News丨CAI Guo-Qiang, WANG Yahui, TONG Yang-Tze
CAI Guo-Qiang
The Birth of Tragedy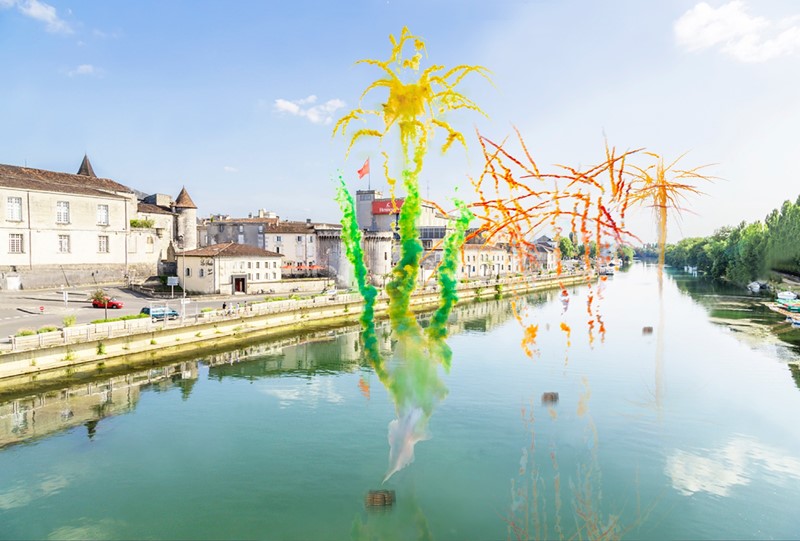 Cai Guo-Qiang will stage a daytime fireworks art show "The Birth of Tragedy" in Cognac, France on Friday, September 25th, 2020. Twenty thousand fireworks will explode from 150 wine barrels as tribute to the universal values of resilience, courage and hope, honoring the human spirit that embraces and rejoices in life in spite of struggles and pain. Cai expresses his confidence in the future and encouragement to the world through the project. Audiences are welcome to watch the art show, which will be livestreamed at 3pm central Europe time and 9pm Taiwan local time.
Cai Guo-Qiang Fireworks Project: The Birth of Tragedy
Date: Friday, 25 Sep 2020丨9pm, Taiwan local time
Venue: The Charente, Cognac, France
Livestreaming: https://www.hennessy.com/en-int
WANG Yahui
To Martian Anthropologists
Wang Yahui's work is currently on view in the exhibition "To Martian Anthropologist" at the New Taipei City Arts Center. Referencing the imaginary future scenes from In the Name of Art by the Belgic critic Tierry de Duve, the exhibition invites 15 Taiwanese and international artists to leave clues in its cyberspace and physical venue for Martian anthropologists, who might visit Earth someday to conduct a field research on human civilizations. Webpages are the actual site where artists' works take place, while the physical exhibition space serves as an extended interface and index to those works shown online.
Online viewing: Wang Yahui, Draw a Circle, 2020 (interactive webpage) 丨https://bit.ly/3bGT2dQ
Exhibition: To Martian Anthropologist
Dates: 04 August— 28 September 2020
Online exhibition: https://martian.beauxarts.tw
Physical exhibition: New Taipei City Arts Center丨No. 52, Zhuangjing Rd., Banqiao District, New Taipei City
Article excerpt about TONG Yang-Tze
Business Weekly:
Tong Yang-Tze's most significant innovation is to show that "calligraphy and painting come from the same origin." Historically calligraphy has always followed stylistic rules, thus Yan style could never blend with Kai style, whereas Tong employs an almost abstract approach to calligraphy where characters can appear big and small, ink thick and light, and brushstrokes arrested and plump all in a single work. Whether it is to draw or write, every element is manifested from her personal understanding of the text. Rather than saying that handwriting is Tong's unique expertise, it would be more accurate to say that she is unrestrained by the boundary between writing and art. It is this freedom to roam that makes her an eminent artist.