Artist News丨Michael Lin and Henriquez Partners Architects' project for Central Presbyterian Church has won the A+ Popular Choice Awards
The world's largest architectural platform has just announced the winner of the 8th Architizer A + Award. The project for Central Presbyterian Church(CPC), a collaboration between Michael Lin and Henriquez Partners Architects, has won the A+ Popular Choice Awards in the Architecture + Art category.
The Architizer A+Awards is dedicated to honoring the year's best architecture, spaces, and products. A+Awards is judged by a jury academy featuring prestigious members from different professions. This year, it highlights the most pressing issues in defining architecture and design today. In its 8th season, the A+Awards received over 5,000 entries from 100+ countries. A Jury Winner and Popular Choice Winner were awarded in each of the 115 categories, with over 400,000 votes cast by the voting public. Michael Lin said: "I'm very honored to be selected or this prize. First, I must say thanks to Henriquez Partners Architects for inviting me to participate in such a wonderful social sculpture and all of the people in Vancouver who supported this project in the beginning. At first I was surprised to be invited to participate in such a project which was an incredible challenge for me and a great responsibility. It was the first time I made a project for a religious institution. In conclusion, I was very happy that I was able to make a meaningful contribution to the project as a whole."
Central Presbyterian Church (CPC) is a vital community organization that has served Vancouver's West End for 90 years. Being "land rich, but cash poor", CPC opted to act as its own "developer" alongside a property company, to redesign and reconstruct the church designed by Henriquez Partners Architects. The building features a program of community amenity spaces (ground floor), sanctuary (2nd floor), social housing (5-7th floors), and market rental housing (8-22nd floors).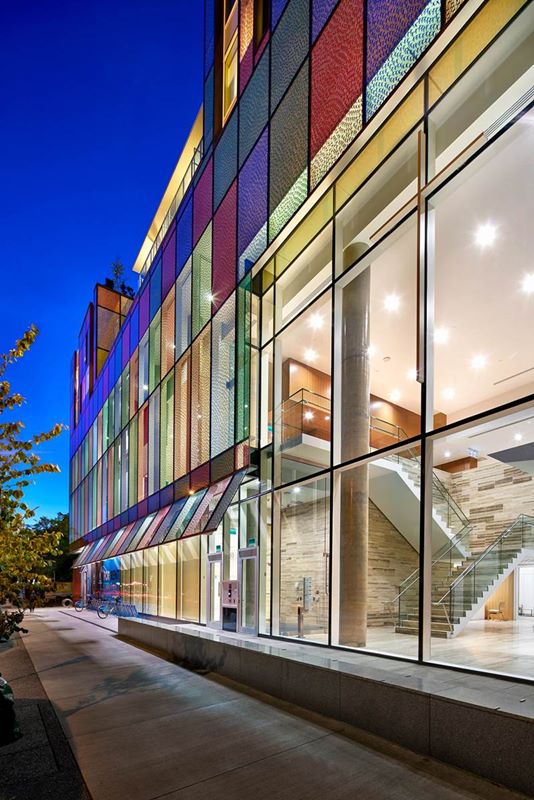 Henriquez Partners Architects invited artist Michael Lin to create a public artwork for the sanctuary in CPC, titled RGB. By using the glass cladding of the CPC as a colored canvas, this project aligns itself with a thousand-year-old history of stained-glass windows in places of worship. By filtering the light of the sun, the stained-glass windows transform it into a projection of color. Lin has chosen to use the 'additive color' model, the reproduction of colors with light, to conceptually link this project to this tradition. The primary 'additive colors' are red, green and blue, or RGB, as the work is titled. 'Additive color' is presented to the eye by emission, by adding red, green, and blue light together at different intensities to produce a spectrum of colors. The three colors can also be seen to symbolize the Holy Trinity.
Michael Lin's selection of the façade's three colors was due to their formation of a "spiritual" white light. The worship space also preserves and relocates the stained-glass cross from the CPC's former sanctuary, symbolizing the Church's ongoing history and identity. The glass transparency reduces the architecture's monumentality and integrates the building into the context of its surroundings. Michael Lin used a contemporary concept to obscure the traditional image of places of worship: these organic swarms of crosses seek to visually erode the architecture making it more porous, almost formless, allowing for a gentler merging with its surroundings.